The Maple Leaf Lounge is Awesome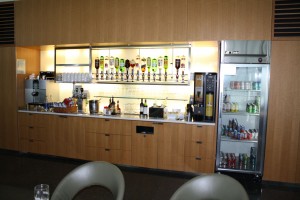 While waiting for our Tokyo flight, we snuck into the Maple Leaf Lounge for some R&R. Since Pearson Airport is Air Canada's flagship hub, it was no surprise that the lounge was the best one to date we've visited.
There was a fully stocked bar, beer on tap, soft drinks, an espresso and cappuccino machine, a coffee machine, soup, fruits, salad and pasta.
I love this place. It feels just like I'm at home. I walk up to any of the available kitchens and grab whatever I feel like eating. There's even showers available in case you're feeling raunchy from flying a dozen or so hours.