Osaka Aquarium and Hard Rock Cafe Osaka
We decided to hit up the Osaka Aquarium to take pictures of sea creatures. The team at Japanigans spent about an hour and a half taking some high quality video and pictures of some of the world's most beautiful animals. Just take a look at the pictures to get an idea of what we witnessed.
For dinner, we saw the Hard Rock Cafe Osaka right across our hotel, so we couldn't resist it. Afterwards, we walked around the Universal City mall and came across two Harajuku girls who Fallout had to take a picture with them. Harajuku girls love having their pictures taken, so asking them for one wasn't too difficult to accomplish as they were more than willing.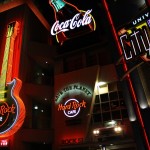 That night, we all slept relatively early as we wanted to check out more of Osaka the next day. We also had a big day of driving to Mount Fuji, so concentration and energy were required. Thundergod came down with a cold too, so he needed to rest as well. In any case, the adventure continues.