We lost our car, got a parking ticket fine and more shenanigans
Today was quite an adventure to say the least.
It all started with us waking up too late for the breakfast buffet. See, our hotel has two types of breakfast: the buffet and the American breakfast. The buffet is only open until 10, while the American one goes till 11. The American is basically eggs, bacon/sausage and a drink of your choice, nothing more. Thundergod, Hinjew and myself (Fallout) thought the buffet was open until 11 AM. We were obviously wrong. Regardless, the meal was good anyway so no complaints there.
After going back to our room, each of us took a shower and basically taking our time getting ready to go out. At about 1 PM, we decided to finally hit the road and check out Akihabara, known as Tokyo's electronics and anime district. We regretfully decided to drive to the district instead of taking public transportation, as we figured it would be faster to get there. We also assumed that the parking cost wouldn't be that much. Also, it was our last day with the car, and we had to drop it off at the Toyota Rent-A-Car in Central Tokyo. Kill two birds with one stone, right?
Here's where our adventure slightly turns to the worse.
First, the directions our GPS gave us didn't take us to Akihabara directly. We were perhaps a twenty minute walk away from the actual district (or electronic shops). In any case, we found a parking spot on the side of the road, next to a parking meter that seemed to function differently than what we're used to in Montreal. This parking meter accepted money like any other, but the timer started counting at zero instead of the displaying the available time and descending from there. Since we didn't understand any of the instructions on the meter, we left it up to chance that we wouldn't get a parking ticket, or worse, have the car towed. Big mistake on our part we'd later find out.
The plan at this point was to find Akihabara Station, so we went ahead and found it on Google Maps through Thundergod's phone and GPS. As mentioned above, we were a good twenty minute away, so a walk was in order as we had already fed the meter.
We finally arrived at the Akihabara district and simply shopped away. There weren't any crazy deals to be found mind you, as the prices were identical to back home. Still, we managed to check out some cool gadgets and get a feel of how the Japanese shop. One thing the team at Japanigans loved was the fact that shops actually sold computer components (motherboards, CPUs, RAM, hard drives, etc.) all separately. They carried virtually every brand and model imaginable. We don't have this type of selection in Montreal!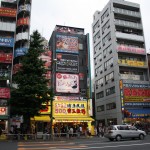 Naturally, after shopping, we started to get hungry. We found this little Indian restaurant called "Little Curry Box" while walking down countless anime shops. Thundergod, being a huge fan of the cuisine, and Hinjew being half Indian, it was no brainer to try the place out. Outside, the owner saw us glazing over the restaurant's menu, so he invited us to dine in what eventually became a great meal. Who knew you had to go to Tokyo to enjoy great Indian food?
After the late lunch, it was time to go back to the car and return it to Toyota. At this point, we were hoping the car didn't get towed, as we were sure we ran out of time on the meter. Since we forgot to write down where we had parked the car, it took us thirty minutes to find it. Fortunately, the car was still there, but as we got closer, a yellow sticker appeared on the windshield. Yup, we got a parking ticket.
Now, a parking ticket in Japan does not seem to show how much you owe. In fact it doesn't say much, except a small paragraph in English that mentions that you have parked illegally. Thinking it's nothing big, we just shove it in with the rental papers and get ready to hit the road to return the car. Since we were in the same district as the rent-a-car's, we figured a ten minute drive would suffice. Oh, we had to return the car by 6 PM. The current time was 5: 45 PM.
We must have spent an hour trying to find the Toyota Rent-A-Car garage/office. We went around in circles, looking for the damn place. Finally, by sheer luck, we saw a little sign in Japanese that mentioned "Toyota" and had the same logo as the one on the rental papers. Only the place, from what we could tell, was closed.
We call the rental agency, and somehow manage to communicate with the other person over the phone who didn't speak a word of English. We finally figure out that there is an underground parking garage that also handles Toyota's cars.
Long drive short, we're in the rental office, and hand over our papers along with the parking ticket. The attendant looks at the ticket and a "whoa" ensues. It seems that the parking ticket is 15,000 ¥, or 174.00$ CAD. Yes, you read that right: parking illegally, or not filling the meter, is 174.00$ Canadian Dollars.
Ouch.
Here's where things get a little worse. If you return a car to Toyota with an unpaid ticket, you must pay 25,000 ¥ (290.00$ CAD) to the rental agency. Two hundred and ninety Canadian Dollars.
Double ouch.
Fortunately, we found out we could go to the police station or bank ourselves, pay the 15,000 ¥ fine and get our 25,000 ¥ back from the rental agency, essentially saving 10,000 ¥.
Regardless, at the time of writing this post, we have yet to pay the fine at a police station. We went to a "Police Box" near the Shimbashi Station, but they couldn't process the ticket.
The story continues, check the next post!
May 30th, 2010 in
Japanigans
| tags:
akibahara
,
akihabara
,
harajuku station
,
indian food
,
shibuya intersection
,
shibuya square
,
shibuya station
,
shimbashi station
,
tokyo
,
toyota rent-a-car